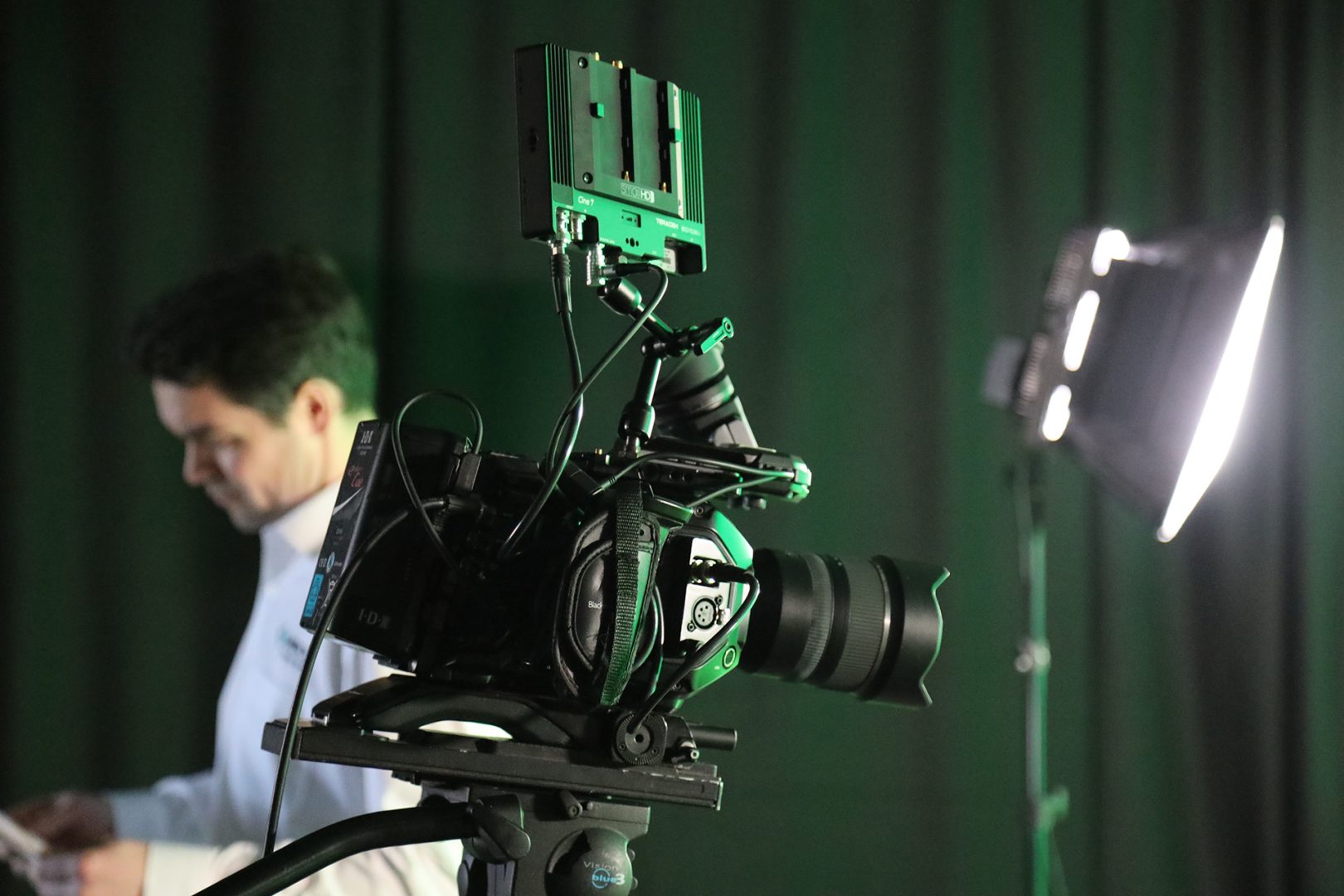 Studio #1
Studio #1 offers a 100m2 of state-of-the art digital recording and broadcast environment suitable for live broadcast and pre-record conferencing, news desk, interviews and direct presentation work. We have a six-meter-wide high-definition permanent install LED video wall with market leading video processing which allows for vibrant colour and super smooth motion backdrops.
Our second stage layout in Studio #1 provides a 10m wide conventional stage area. Our installed LED lighting rig allows for flexible use of the space and fast set-up for the perfect visual environment. Available with or without cameras, creative and production services.
Key Equipment
– 6m x 3m high-definition ROE LED video wall
– Brompton Tessera Video Processing
– Full ETC digital studio lighting and control
– Live stream facilities
– Blackmagic video processing and cameras
– On-site 3D render + server centre
Conference Suite / Studio #2
The conference suite allows you to host private boardroom style meetings, or presentations to up to 20x people on-site in a highly professional setting. It can also be set out to use as a second studio allowing for filmed boardroom meetings, panel discussions, conference or theatre style presentations. Whether for pre-planning an event or for post-event evaluation, enjoy the private space to record, meet and work in.
As standard we also feature an interview area which is the perfect space to film any one-to-one content. Whether that be pre-recorded interviews with senior management or live event q&a, this dedicated space is perfect for more intimate content.
Require an additional filming space? We can remove the furniture to create a 775sqft area.
Includes:
– Boardroom Table with 8x executive chairs and 65" screens
– Free High-Speed Wi-Fi
– Interview Area
– Designer coffee table 4x executive chairs
– Subtle Decoration
– Lighting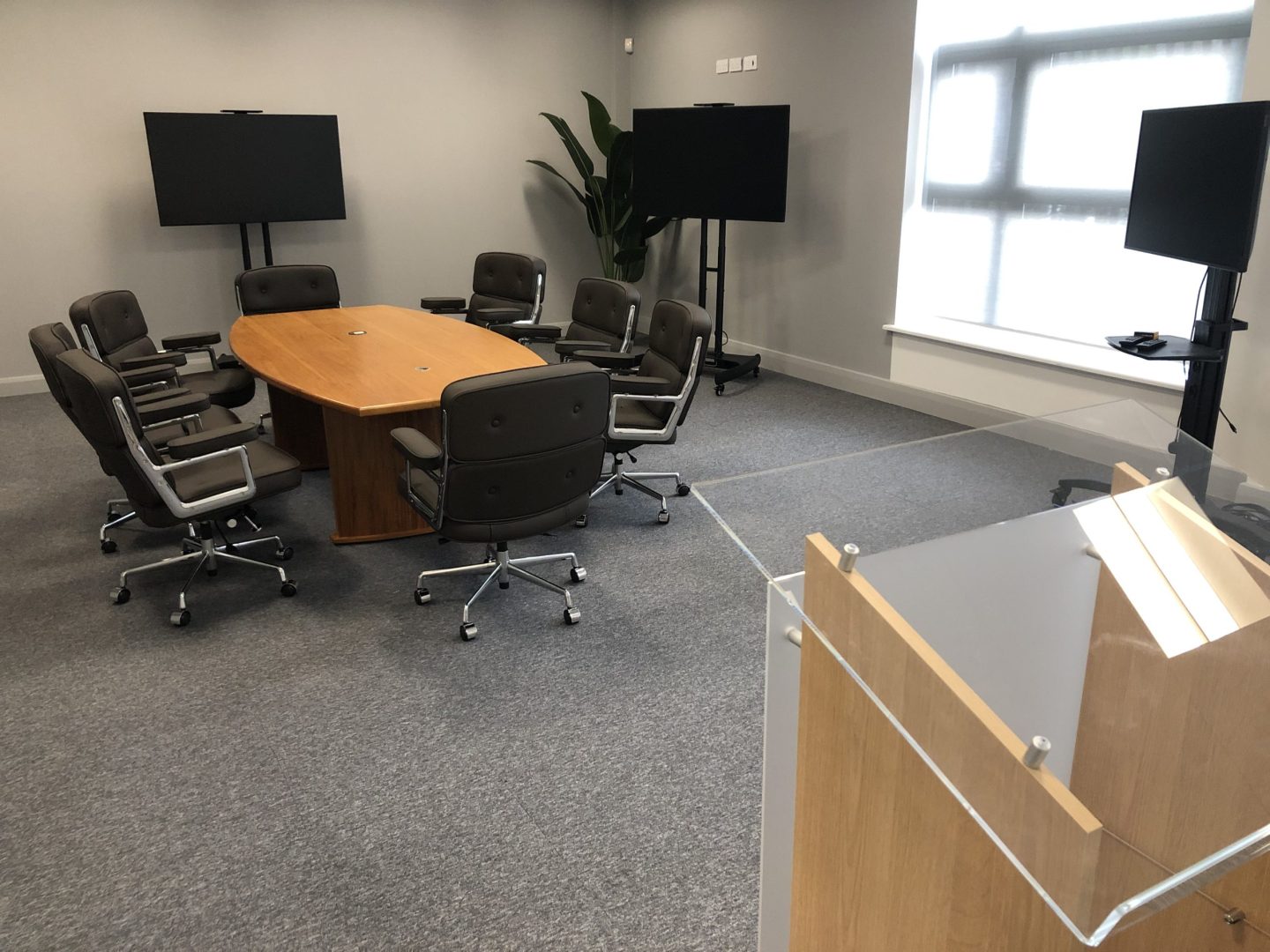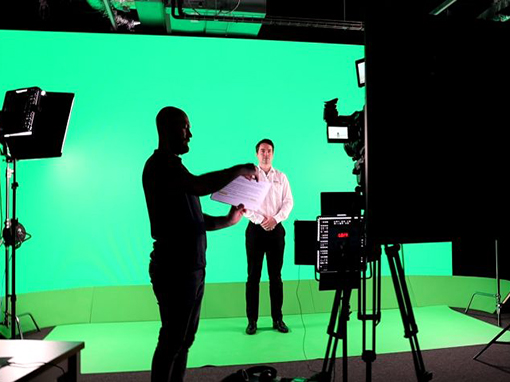 Green Screen
Available fully set-up with filming and lighting or as a dry hire option, use our green screen facilities to create clean and professional content for your business. This technology can be used for a large variety of content; whether used for pre-recorded messages for a live event or to add a video avatar to your V-Ex environment, our in-house video team can achieve incredible results. 
Live Editing & Broadcast Suite 
Our broadcast suite is designed for delivering virtual events, whether that be standalone or part of a hybrid event. Whether you'd like to bring your own technicians or use ours, the suite is linked to Studio #1 and the conference suite and is setup to ensure that all your online presentations run smoothly.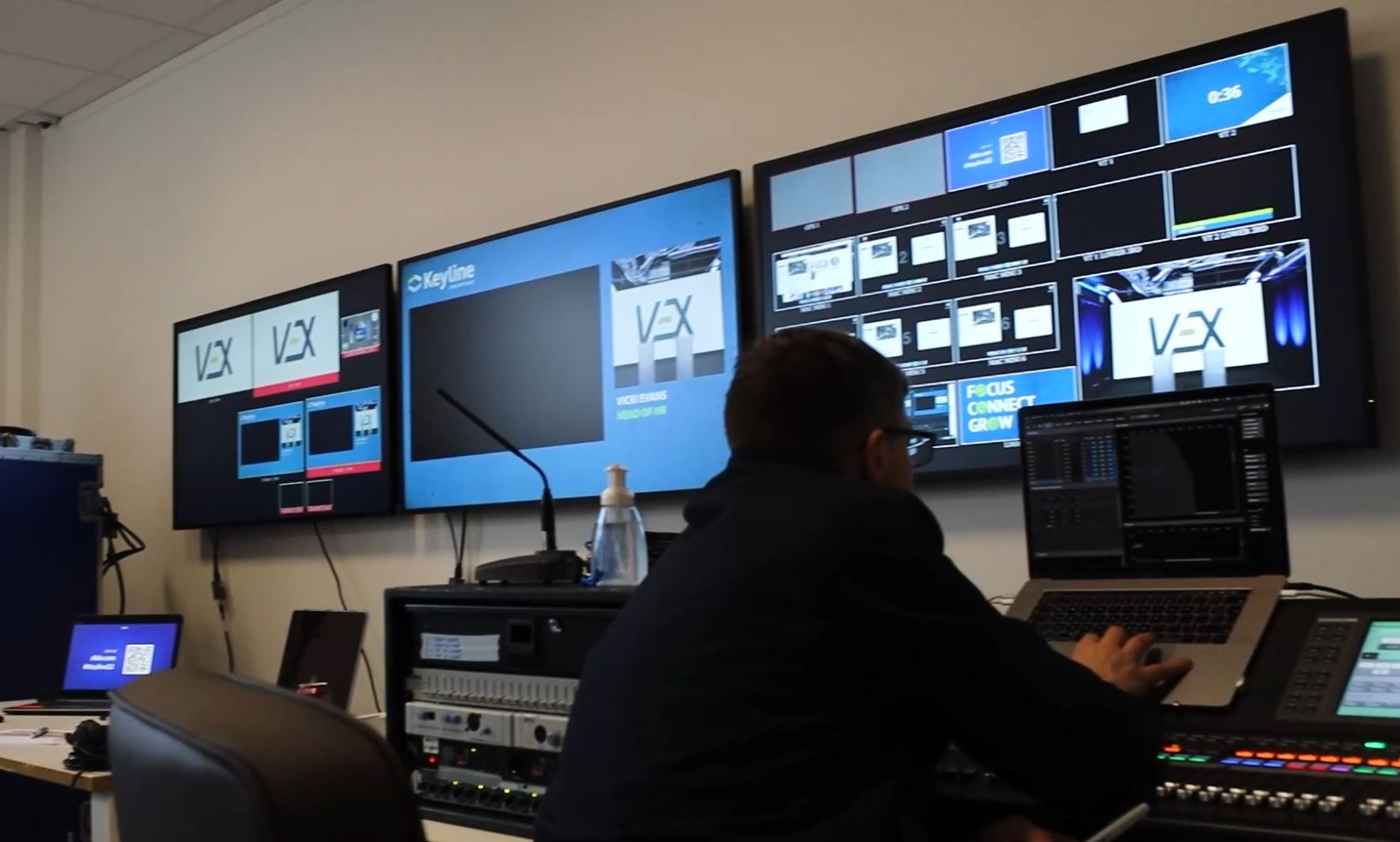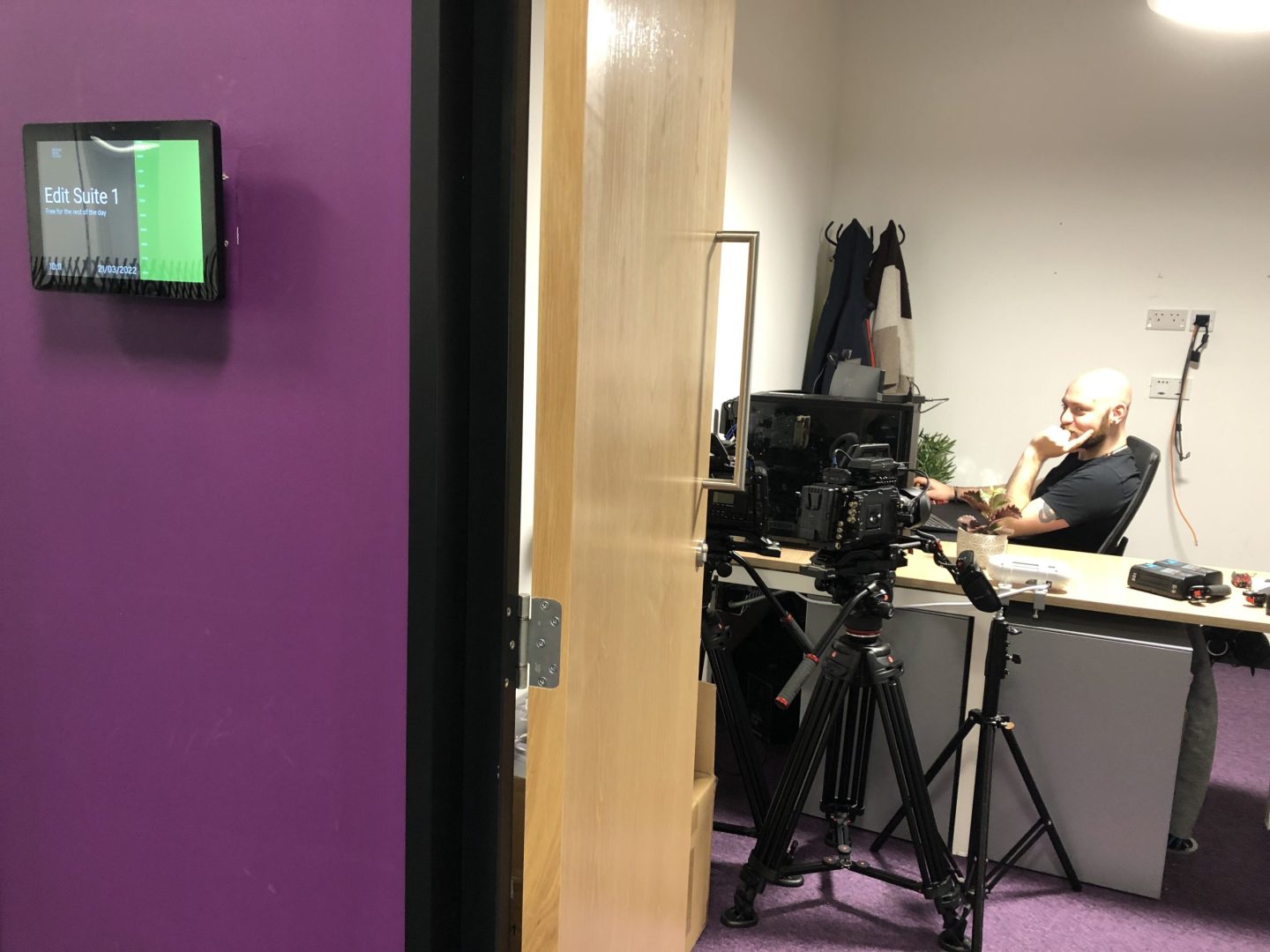 Video Editing Suites
Our in-house media team have dedicated suites, designed to enable a quick turnaround of raw footage into professional finished products. We can assist with anything, whether that be a pre-recorded presentation or social media advertising; our talented team are on hand to produce professional results.
On-Site Café
Catering for your event couldn't be easier with the use of our on-site café. Whether you'd like to bring your own or take advantage of one of our preferred suppliers, the space is available to offer sit down catering to you and your team. For good weather days, we also offer a private outside dining and chill-out area for up to 30 people.
We have a fully equipped kitchen area including bean to coffee machines and food & drinks fridges.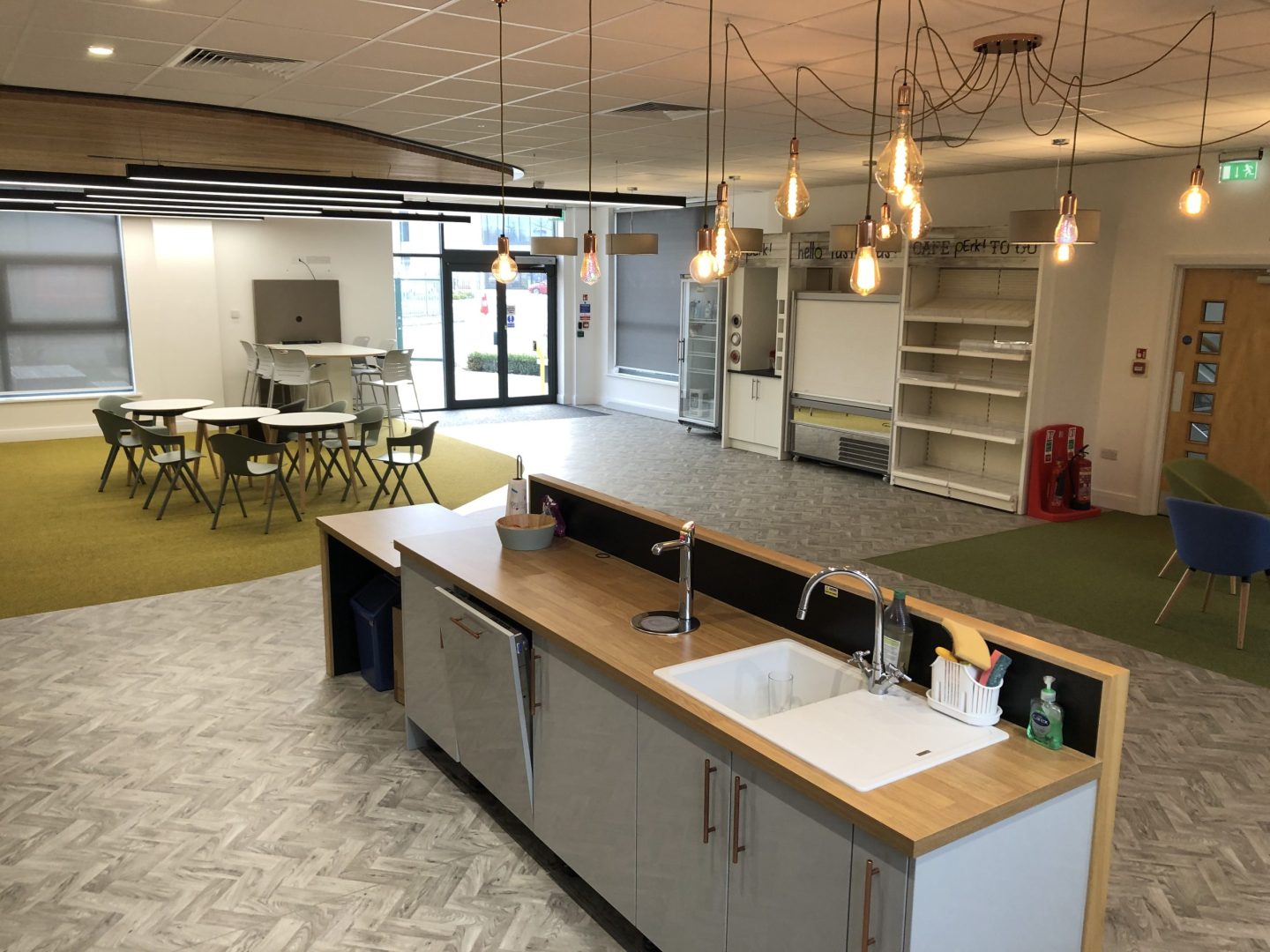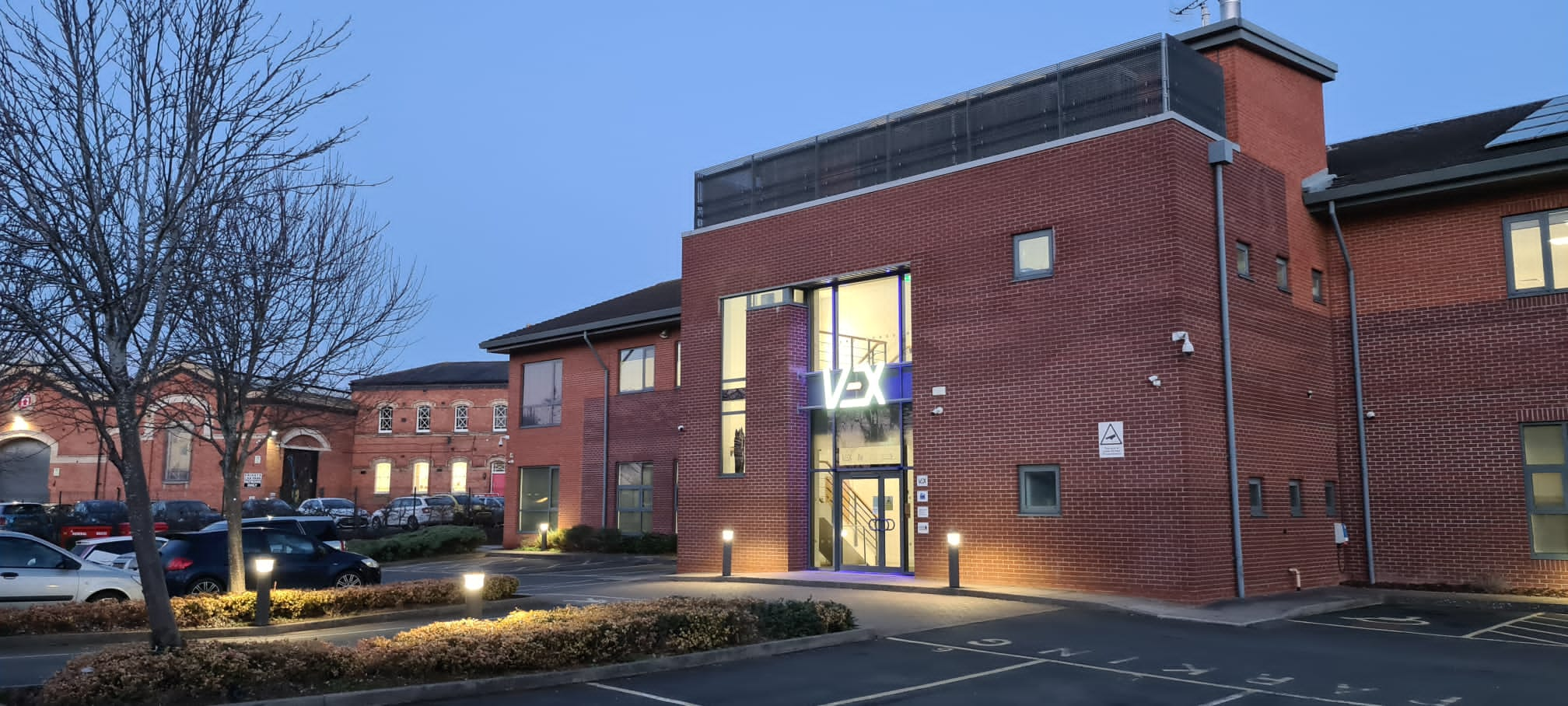 Key Venue Features
– Free onsite Parking
– Concierge service
– Airconditioning throughout
– Solar powered building
– Free high-speed Wi-Fi